We've been in business since 1992, helping many organizations improve their business process performance, as well as maintaining their ISO Registered management systems.

---
What makes us different from the rest?
We always focus on simplifying and streamlining the business processes while ensuring that the ISO Management System weaves into your existing practices and strengthens them for better performance. Those Clients that have worked with us find that we take a practical approach when applying process improvement tools and the ISO requirements. We don't deal in fluff or theory… we take a straight-forward, realistic path that will make sense for your business.
We have extensive experience in the "field", and have proven we can walk the talk by achieving measurable performance improvements with those organizations we work with. This hands-on experience allows us to approach continuous improvement and ISO from a business perspective. This provides you with practical ideas that we've tested and put into practice in real-time environments. We've seen what works… and what doesn't… both with top management as well as with frontline personnel. Our high level of repeat business is a measure of the success we've brought to our Clients, and references from them back this up. We are passionate about our work and about how we can help you achieve your objectives.
---
Below is a book publication from the ISO Support Group.  The reason we decided to write this book was because too many people thought that Lean Manufacturing (or Service) was a completely different initiative from ISO 9001… and in fact we felt the exact opposite was true.  Our book "Lean 9001" walks you through how these two concepts complement each other and we explain how to use them both in combination to really drive performance improvements.   If you would like more details, just click on any of the links below.
OUR BOOK…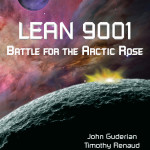 Click here to see the Table of Contents
To see a sample chapter, click here
To order go to www.sme.org or www.amazon.com
Click here to read a newspaper article review
---
Tim Renaud, B.A.Sc., P.Eng., is the owner and founder of the ISO Support Group and also one of its primary auditors, trainers and consultants.

His business experience covers over twenty-five years from both small to large organizations as well as consulting to a diverse group of clients. He began consulting in 1992, incorporated his consulting company in 1995 and obtained ISO 9001 Registration in October 1998, and have remained compliant with this International Standard since that time. Providing value-add internal auditing services has been a critical component in assisting numerous client organizations in maintaining their ISO Registration, as well as guiding them in streamlining their business processes using LEAN techniques.  This all began with an engineering degree from the University of Waterloo where he learned to be a disciplined problem solver.
Specific areas of expertise include training, auditing and consulting on implementing continuous improvement initiatives (LEAN); as well as building, installing and maintaining ISO based management systems (ISO 9001; ISO 14001; ISO 22000; OHSAS 18001). He is a member of the association of Professional Engineers of Ontario (PEO) and is a Lead Auditor for ISO 9001/ ISO 14001/OHSAS 18001/ ISO 27001/ ISO 22000 Management Systems.
In 2008, he co-authored a book entitled: "Lean 9001 – Battle for the Arctic Rose"; He has also published an e-book entitled "The 3 Biggest Mistakes People Make with ISO 9001"; he has written and distributed monthly Newsletters since 1999; and has authored over a hundred articles on a range of business topics. Profiles of other trainers, auditors and consultants at ISO Support Group are available upon request.
Some thoughts on ISO Management Systems… click here to listen